This basket is an extra-large soft wire platter with a rigid hardwire edge.
This platter is approximately 16" in diameter and is 4" tall.

It is beautiful, usable art.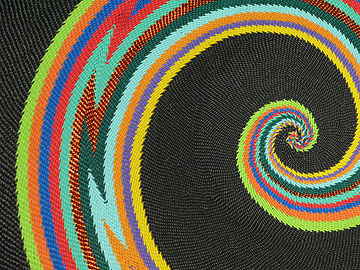 We have just started working with another Collective of Weavers who are using new weaves and shapes to advance the art form. These baskets are exceptionally well made, perfectly woven with a hard wire edge.
The use of colored wire, different weaves, and reverses in the direction of the weaving creates beautiful patterns. The variety of the patterns demonstrates the creativity of the weavers.
No two baskets are exactly alike.