Two (2) Original Jane & Joe Yoga Benders

| | |
| --- | --- |
| He's one with the bend!. | She's one with the universe! |
Yoga Jane and Joe come with metal tin mats and
posing booklet so they can practice yoga poses.
They want you to get out there and enjoy one of
the world's fastest growing ways to stay fit.
Warning: Yoga Benders are not a substitute for real exercise.

Yoga Benders contain powerful magnets in their hands and feet.
You can bend, pose and stick them to anything steel.

They are non-conformists, who love to hang out endlessly on their tins,
filing cabinets and refrigerators.
Give them an inch and they'll take over your store, home or office.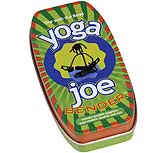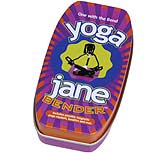 WARNING: THIS SET CONTAINS SMALL PIECES AND SHOULD NOT BE USED BY SMALL CHILDREN.