Storms, Arks, Rainbows, Skirball Cultural Center - Los Angeles, CA

Each art cube features 9 different images, is fun to use, and comes with a descriptive color storycard. These cubes are designed in Italy, have dimensions of 2.8 in.X 2.8 in. square, are made of high quality gloss coated paper and plastic, and come packaged in a printed gift box. Each Made in Museum Art Cube is a Made in Museum exclusive.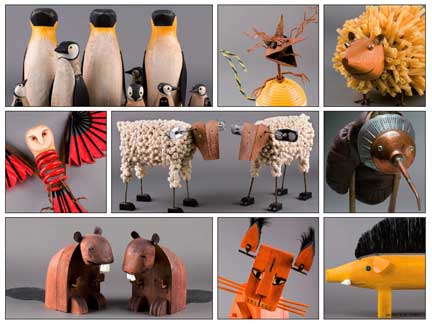 Five years in the making and occupying an 8,000-square-foot gallery space, Noah's Ark at the Skirball – opened in 2007- creates a wondrous world through ingenious architecture, exhibition design , and special effects. This cube describes the projects origins, the individual animal's material composition and the name and attributes of the animals shown. Example: Penguin, Antarctica. We're emperor penguins. Some of us mate for life. We work together to care for our young. Carved wood. aniline dyes, black rubber, copper brads.