Six (6) Original Extreme Benders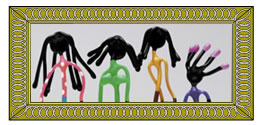 Who do these long hair Benders think they are?
So what if they've got bright new colors, more detail and enough attitude to make you sick. Hey, you shameless Benders. Get a haircut!
Extreme Benders contain powerful magnets in their hands and feet.
You can bend, pose and stick them to anything steel.
They are non-conformists, who love to hang out endlessly on their tins,
filing cabinets and refrigerators.
Give them an inch and they'll take over your store, home or office.
This set includes one each of:
| | | | | | |
| --- | --- | --- | --- | --- | --- |
| Mojo Bender | Ginger Bender | Rita Bender | Ziggy Bender | Shaggy Bender | Fuzz Bender |
WARNING: THIS SET CONTAINS SMALL PIECES AND SHOULD NOT BE USED BY SMALL CHILDREN.