On a Handmade Collage Background

This piece is 18.5" tall x 13.5" wide x 2" deep.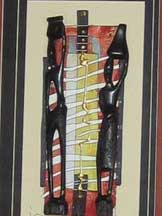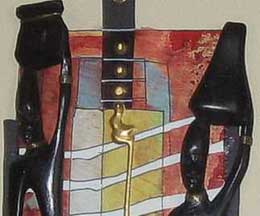 Inkangiso Worldesigns African Framed Art is authentic African artifacts and carvings, collected from all over the African continent, including Kenya, Malawi, Zimbabwe, South Africa, Mozambique, Tanzania, Ivory Coast and Congo. We have had our own factory for 9 years and sell in over 10 countries around the world. The pieces are all assembled by South African and Zulu Artists and Artisans. This art is then beautifully set in a deep box-frame to complete the African experience. Each piece is a unique work of art, ideal for the discerning art lover as well as the individual looking for something tastefully stylish and different. Framed wall art has just entered a new dimension, delivering a piece of Africa into your home or workplace.