Handmade Thai Silk Shawls
We carry a large selection of handmade silk shawls from Thailand.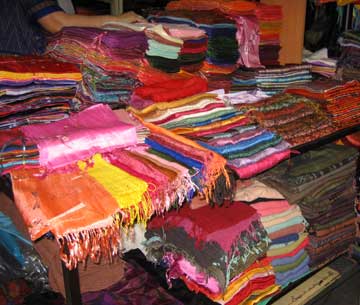 Shawls are approximately 30" x 60".
Please use the links on the left to browse through scarves.
Silk and should be washed by hand or dry cleaned.
As much of the handmade silk is a cottage industry done throughout the villages of Thailand, dyes may not be consistent or colorfast.
These items are sold "as is" because of the natural flaws occurring in the silk.
We have tried the capture the color of the silk to the best of our ability.
Pictures appear differently on different monitors and silk looks different in different light.
They are truly beautiful and reflect good craftsmanship.