Original Paintings by Thai Elephants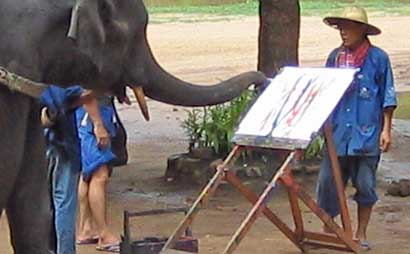 We visited elephant conservation camps in Thailand, where we watched the elephants paint and we hand picked each of the paintings to support the work of the
Elephant Conservation Center.
The Elephant Conservation Center provides care for any elephant brought to them.
There is a medical center to care for sick elephants and train vets.
A nursery provides for mothers and newborns.
In addition to the funds used to purchase these paintings, a portion of all sales will be donated to help this work continue.

There may be water marks, smears, food or mud on the paintings and this is part of the artistic process and adds to the charm of the painting.

Paintings are stamped on the front and also have an embossed seal of authenticity. There is information about each elephant artist. Each painting is on Canson or Rennaissance art paper with poster paints.
30" x 22.5"

Paintings are rolled for shipping.