Zulu Telephone Wire Baskets
The Zulus are the largest tribe in Southern Africa, renowned for their artistry and craftsmanship.
"The telephone wire basket is a relatively recent craft development which reflects the ingenuity of craftspeople. Brightly coloured telephone wires are used to great creative effect, decoratively covering objects such as bottles and walking sticks, or made into plates and baskets."
(Todres, 1998 Guide to South African Arts, Culture and Heritage).
Worldesigns is in the process of helping several collectives of South African telephone wire weavers to become financially independent. Each group specializes in its own unique style, allowing us to bring the a variety of plates, bowls, baskets, and art masterpieces. We hope that their unique art form will appeal to you and that we can continue to sell their artwork. Our long term goal is to improve their standard of living and provide access to education for their children.
Each is an exquisite art piece and a usable serving piece.
Each of these baskets is one of a kind and you will receive the piece pictured. After you place a basket in your shopping cart, it will be removed from inventory. If you look in your shopping basket (link at the top "basket contents"), you should see it there.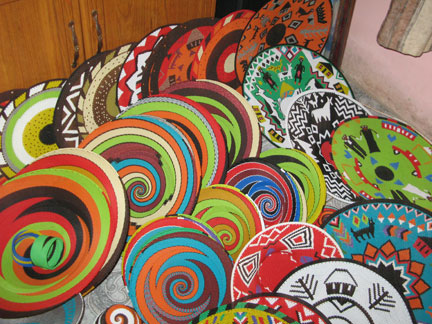 To learn more about Zulu Telephone Wire Weaving click on the button below.